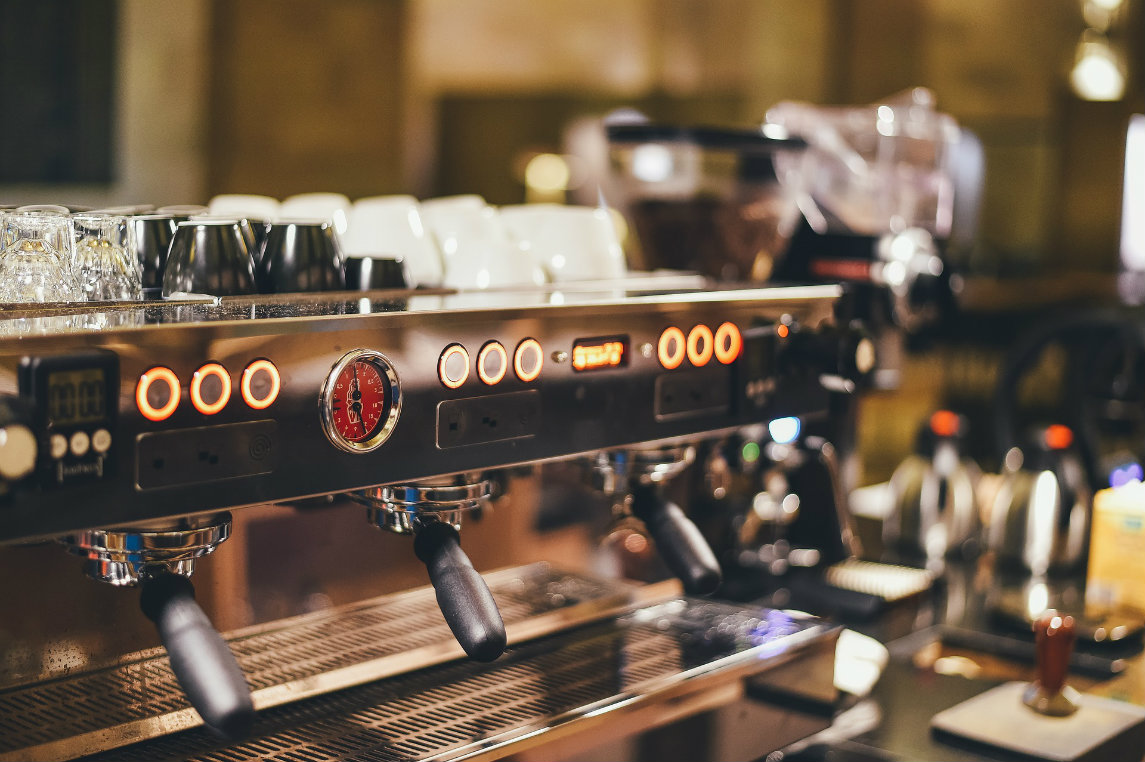 ---
BEST SEMI AUTOMATIC ESPRESSO MACHINES
---
NAME

FEATURES

RATING




BEST
CHEAP DOUBLE BOILER




Breville BES920XL Dual Boiler






Dual stainless steel boilers and dual Italian pumps


Over-Pressure Valve (OPV)


Electronic PID temperature control


Backlit LCD displays brew temperature, shot clock or time






4.9/5






BEST BUDGET WITH PRO FEATURES




Gaggia Classic



3-Way Solenoid Valve

Pannarello Steam Wand,


17-1/2-bar pump with a high-voltage boiler


portafilters and grouphead made of heavy-duty marine-grade brass with chrome plating






4.9/5




BEST AUTOMATED SEMI AUTOMATIC




Breville Oracle






Auto frothing technology


Over-Pressure Valve and Electronic PID Temperature Control.

Programmable shot duration/volume with pre-infusion


Auto dose and tamping system


Bulit in Conical Burr Grinder


Stainless Steel Dual Boilers,

Triple Heating System






4.8/5






BEST CHEAP




DeLonghi EC155



15 Bar Pressure Pump


Manual Frother


35oz Removable Water Tank


Three in One Filter Holder for double&single shot , and ESE pods






3.8/5






BEST VALUE




Breville BES870XL Barista Express



Thermo coil heating system

Electronic PID temperature control


Stainless steel conical burr grinder


360-degree swivel action steam wand


Over-Pressure Valve (OPV)






4.9/5






BEST COMPACT




DeLonghi America EC680B Dedica



Thermoblock Technology


Flow Stop and pre-infusion


Adjustable Cappuccino System and programmable controls


15 Bar Pressure Pump






4.4/5



Best cheap double boiler espresso machine
Breville BES920XL Dual Boiler Espresso Machine
---
---
Best value semi automatic espresso machine
Breville BES870XL Barista Express Espresso Machine
---
---
Best entry level espresso machine with pro features
Gaggia Classic Espresso Machine
---
---
Best value, compact espresso machine with pro features
DeLonghi America EC680B Dedica Espresso Machine
---
---
Best cheap espresso machine
DeLonghi EC155 Espresso and Cappuccino Maker
---
---
Best of both worlds – the most automated semi-automatic
Breville Oracle Espresso Machine
---
---
BEST SUPER AUTOMATIC ESPRESSO MACHINES
---
NAME

FEATURES

RATING




BEST VALUE

DeLonghi ESAM3300 Magnifica






Professional-quality, conical low-pitch burr grinder


Compact size


Pannarello steaming wand


60oz water tank



4.2/5




BEST BUDGET




Gaggia Brera



Pannarello wand


Metal casing


Rapid steam technology


Programmable buttons


41oz water tank






4.4/5

BEST FOR OFFICE/ LARGE HOUSEHOLDS




Jura Giga 5






2 bean hoppers and 2 grinders working independily


wide range of programmable settings with color LCD display


One touch machine


87oz watre tank






4.7/5




EASY TO USE ONE TOUCH




Gaggia Anima Prestige



One touch brewing and frothing1


Programmable brewing options


Autofrothing milk carafe


60-oz easily accesible water tank






4.5/5









BEST CHEAP WITH BUILT-IN MILK SYSTEM




DeLonghi ESAM3500.N



Professional grade, low-pitch conical burr grinder


Active cup warmer


Prgrammable buttons


Removable milk carafe


60oz water tank






4.0/5
Best value/budget friendly super automatic
DeLonghi ESAM3300 Magnifica Super Automatic Espresso Machine
---
---
Best entry level compact super automatic
Gaggia Brera Superautomatic Espresso Machine
---
---
Best compact one touch super automatic
Gaggia Anima Prestige Coffee Maker
---
---
Best cheap super automatic with built-in milk frothing system
DeLonghi ESAM3500.N Magnifica Super-Automatic Espresso Machine
---
---
Best super automatic for offices and large households
Jura Giga 5 Automatic Coffee Machine
---
---
BEST POD ESPRESSO MACHINES
---
NAME

FEATURES

RATING




BEST VALUE

Nespresso Vertuoline






revolutionary Centrifusion technology for brewing coffee and espresso


Capsule recognition and code reading technology


Fast heat up – 15s


Removable 40 oz. water tank



4.9/5




BEST CHEAP AND COMPACT




Nespresso Inissia



Compact and budget friendly


Fast preheating time-25s


2 Programmable buttons for espresso and lungo


Removable 24-oz water tank






4.8/5

BEST COMPACT WITH BUILT-IN FROTHER




DeLonghi Silver Lattissima Plus Nespresso






Patented single touch hot milk system


Energy-saving with adjustable auto-off timer


Accommodates latte cups


Illuminated control panel with 3 milk and 2 coffee selections


30-oz water tank






4.3/5




BEST BUDGET WITH MILK SYSTEM




Keurig Rivo Espresso, Cappuccino & Latte System



Automatic On/Off Function and
Energy-Saving Mode


15 bars of pressure and brews under 1 minute


Three frothing modes: Cappuccino, Latte, and Cold Froth


Two espresso size options: Short and Lungo


60-oz water tank






4.1/5




BEST QUALITY




Breville Nespresso Creatista Plus



Pre-programmed but customisable settings


Ability of making wider range of drinks


Auto milk frothing with customisable settings


Compact stainless steel casing


53-oz water tank






4.7/5
Best entry level/budget friendly super automatic
Nespresso VertuoLine Coffee and Espresso Maker
---
---
Best cheap and compact pod espresso machine
Nespresso Inissia Espresso Maker
---
---
Best compact pod machine with built-in milk frother
DeLonghi Silver Lattissima Plus Nespresso Capsule System
---
---
Best entry level/budget friendly super automatic
Keurig Rivo Espresso, Cappuccino & Latte System
---
---
Best entry level/budget friendly super automatic
Breville BNE800BSS Nespresso Creatista Plus
---
---
 ESPRESSO MACHINE BUYING GUIDE
---
How to choose best espresso machine for your needs?
1. TYPES OF ESPRESSO MACHINES
---
In a nutshell. If you like more a full hands-on approach to making coffee and you have some knowledge about this topic then you should consider semi-automatic or even lever/manual machines. If you like to have everything ready at the touch of a button or like having people over and serving barista-style coffee drinks without wasting time, the super automatic espresso machine will be the way to go. If you only need 1 cup at a time and hate or don't have time for cleaning up the one cup espresso makers like Nespresso should suit you best.
There is even an option for people on the go with no access direct access to power source.
Of course, every type has some pros and cons and typical features that you should consider. So let me explain a bit more what kind of espresso machines are available on the market. Who would they suit best and what you should look for when looking to buy one.
What kind of espresso machines can you find on the market? There are several to choose from:
Pod espresso machine
Super automatic
Semi automatic
Lever
Manual portable
The order of this list is not accidental. I'd like to start with the type of espresso machine that is the simplest to use and require no experience or specific knowledge. Many of you will ask why I even include this type of coffee makers. They not using "real" coffee just some pods with questionable quality ground coffee beans.
Well, the answer is simple. There is always going to be someone whose lifestyle and taste will fit perfectly into this niche. Be there a student with little space or a busy single parent with hectic school runs etc. As long as there are people who benefit from it I'll try to do my best and provide thorough information. And besides, there is no accounting for taste(this statement doesn't include instant coffee ;))
Pod/Capsule Espresso Machine
---
Pod style espresso makers like Nespresso or dolce gusto are extremely compact and easy to use. They don't use ground coffee or beans, instead, they utilize special pods/capsules with ground coffee to make espresso or coffee drinks.
There seems to be many different types and manufacturers on the market but most of them are made by Nestle Group from Switzerland. Nespresso system machines are sold by/licensed to many different manufacturers including  Krups, Magimix, Miele, Siemens, and DeLonghi, but are mostly manufactured by Eugster/Frismag.
That's why you can find so many different models from different manufacturers. Dolce gusto is also a system manufactured for Nestle Group by Arno, Krups and DeLonghi and Keurig. This system offers a wider range of coffee-based drinks. I'm not going to go into too many details here but just wanted to shed some light and show you the difference. Most of the dolce gusto coffee pods contain ground coffee(like espresso, americano or latte) plus a milk capsule with milk and other ingredients like sugar.
Some of the milky drinks like mochas, iced lattes coffee capsules contain instant coffee, cocoa powder, and other stuff.
The idea behind this system is to have a real coffee experience with no mess, no fuss and at an affordable price. On top of that, the compact size of these machines makes them very popular.
Super Automatic Espresso Machine
---
If you like great coffee, but setting everything up every single time and getting your hands dirty doesn't appeal to you, you should consider a super automatic espresso machine.
This type, also called bean-to-cup, will take care of everything for you. All you need to do is top up the water and coffee beans and at the touch of a button, you'll be able to make amazing barista style coffees on your countertop. Easy, isn't it? No experience necessary.
Semi Automatic Espresso Machine
---
If the idea of playing with different factors and training barista skills is appealing to you definitely should consider a semi-automatic espresso machine. It provides that hands-on experience many coffee lovers are after and allows for total control over the brewing process. You'll be responsible for every aspect from grinding the beans to tamping to dialing the settings and finally frothing the milk for milk-based coffees.
The downside(for some) is that it takes a learning curve and a lot of practice to achieve desired results. The other thing is it takes more than a good quality espresso machine to pull a perfect shot. In this case, you have to buy some additional gear like a good quality burr grinder to start with and some great beans as well as other accessories like tampers, milk pitchers, and thermometers.
Lever Machines
---
These kind of machines are not cheap and require a lot of experience so not really recommended for beginners. While semi-automatics have some of the processes automated, these machines are as hands-on as it gets.
They haven't got a pump to push water through the coffee grounds. For direct lever machines, you act as a pump and push water through the coffee. On other hand, for spring piston lever machines the calibrated spring is used to push the water through coffee grounds at the declining pressure.
It's a more complex topic and I won't be writing about it here. Plenty of material for many posts. I just wanted to mention these for those interested what is available on the market.
Manual Portable Espresso Machines
---
These machines are fairly new and there are several manufacturers offering a quite wide range of different types. These type of machines don't need any electricity to produce an espresso so are great on the road(car, plane) or while camping or anywhere where the access to an electric is somehow restricted. If you interested there are many models on the market at the moment like Aeropress, Handpresso or Rok.
2. BUDGET
---
For most of you, the main factor determining your choice is going to be your budget. But I think you should decide what kind of espresso machine you want and then find out one that fits within it. Usually cheaper espresso machines don't have as many features as the high-level ones. Or the quality of materials might not be as good.
You'll probably have to compromise at some point. You'll probably have to compromise at some point. That's why it is important to determine which features can help you pull a great espresso and which features are necessary for yourself when using this kind of machine every day. If the money is no issue, that's great you've got a much bigger choice but I'm sure you'd still like to find a machine that suits your needs best. You just have to determine what features are necessary for you and if you want to more manual or more automatic machine.
 What features should you look for?
Super Automatic Espresso Machines
---
Depending on the price super automatics can offer a wide range of features that improve overall user experience. Generally, most of them have the basics in common like bean hoppers, brew group, grinders, water pump, boiler or water tank. The difference is in the quality of these components and any extra customizable features that they may have.
Basic Features
---
For all super-automatics, the coffee system consists of a bean hopper, a doser, a grinder, a brew group, coffee spouts.
Extra features
---
The number of extra features usually depends on the price of the espresso machine as well as manufacturer.
Other settings you should look out for are an automatic turn on/shut off, energy saving mode, a clock descaling or empty hopper/water tank alert.
Semi Automatic Espresso Machines
---
This type of espresso machines has gained popularity over the last few decades and has made its way into our homes offering true espresso experience previously found only in cafes and coffee shops. The semi-automatics became hugely popular especially now with the rise of specialty coffee and more and more people want to recreate this cafe quality but with a lower price tag and in the comfort of their own home.
Similarly to super automatic espresso machines, the features included and materials used vary and depend mostly on the price. However, the basic features common for every model aren't as broad as in super automatics.
Most of the time you'll have to pay extra for any additions. Saying that you can still find superb machines with a lot of top quality features in the lower price range it just takes a bit more digging. It's worth mentioning that there are many models considered as prosumer/semi-commercial level machines that offer commercial quality and features for home users but that usually comes with a higher price tag.
Features
---
What about machines with a built-in grinder?
Well, they have their place in the espresso machine niche. They're fairly new and I think only made by Breville at the moment. In my opinion, they're great for beginners with a modest-ish budget. This type of machines is perfect for those who want more automation or have limited counter space(as can't afford or fit a grinder).
Pod/Capsule Espresso Machines
---
Pod espresso machines are usually the simplest ones without many complicated components. If you decide to go this route check what is the pod variety, if they're widely available, the overall size of the machine and any milk frothing system it has/can be added. I'd look for any programmability and energy saving setups.
Conclusion
---
Quality espresso machines allow you to brew an authentic Italian espresso and prepare an enjoyable latte or cappuccino and right in your home or office. But they don't come cheap and that's why it's important to look around and make an educated choice. I hope this guide has shed some light on the best espresso machines available on the market as well as the important features you should look for when buying one. If you have any other questions leave a comment below and I'll be happy to answer them to best of my knowledge.
Happy brewing!
Kat